Here is my contribute to the best 3d open-source application. A complete infographic map to help finding the way in modelling 3d objects with Blender 3d. Coming from a solid know-how in 3d Studio MAX was a real challenge to understand the complex interface and functions in blender. Right-clicking mouse button to select objects was the first thing I learned and it was already a barrier at first.
The png high resolution image on the left is free for you. It's readable and good to print. But if you really love this map you can offer me a beer and obtain the high res vector pdf version (See below). In any case I'm glad if it's a useful learning resource. Good work!
History log
22/09/2022: Some shorcuts fixes and updates for Blender 3.3! Color input picker tip added
29/05/2022: Mesh loopcut options added. Mesh context menù and mesh select menù moved. Added skin resize (plugin) shortcut. Added some icons and infographics.
23/03/2022: Updated to blender 3.1. Shader nodes section updated, added compositor basic config, new edit mode knife snapping and measures.
21/09/2020: More colors and 2.9 new functions!
17/03/2020: Graphic improvements, viewport render, default value backspace restore, duplicate and merge vertices
---
How it started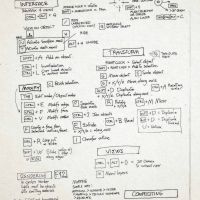 Passion, patient, and this rough sketch. My first map was an A4 ink note. I found it so useful I decided to illustrate as best as I could, and it was so precious at first I wasn't able to model anything without it. So useful that when I lost it for some days, I decided it was the moment to draw it in illustrator in the final version you see. Similar experience I did for the Roman Architecture course, with tens of sheets resuming lessons.
This map took hours to assemble: if it's precious for you, I'll appreciate if you offer me a beer by pay-pal; I'll send you the latest vector version of the infographic map. See below!
---
Blender poster infographic is now available on "Learn with a Poster" store. Get the full resolution vector file at the cost of a beer.